Thank you to Melissa Goodwin of Girl Gotta Hike for speaking at our last Mappy Hour event and writing this great blog post! All photos included courtesy of Girl Gotta Hike.
Major thanks to everyone who came out to talk some trail at May's Mappy Hour event at Arc'teryx Soho with Sierra Nevada Brewing Co.
There were a ton of awesome trail suggestions that were shared between us, and I hope that some of the more creative solutions and mulit-modes of transport for getting you a little further afield have already gotten your future adventure gears turning.
How to Find Trails
In our digital era, trails and trail recommendations are abundant! Google is a great first step! You can also talk to your Mappy Hour friends, check out the NYNJTC's online trail finder, utilize social apps like AllTrails, and Facebook groups to spark ideas and get your footing. Read through user comments for helpful tips and be sure to follow up and cross-reference any recommendations with your destination's official park maps, often found right on their homepages. Download GPS enabled maps from the NYNJTC ahead of your hike or use apps like Far Out Guides that will work in airplane mode to help keep you on track once you're out there.
Actual physical guide books are a great resource too! NYNJTC has a ton of compilations for regional hikes, as does The Appalachian Mountain Club and other publishers. I've purchased plenty of my regional guidebooks from used bookstores to get different perspectives and suggestions – just keep in mind that the specific transit information listed in an older book may no longer be accurate so cross-referencing is key.
Public Transit Basics
Thankfully in the greater NYC region, there are a ton of Public Transit options to get us out there! The MTA's Metro North, New Jersey Transit, Long Island Railroad, and the Trailways Bus system will move you the farthest and fastest, but don't overlook options like The Staten Island Ferry and our amazing subway and bus system to get you out to the further reaches of the outer boroughs. The regional and county bus systems can help get you into and between smaller upstate towns, so check out the Bee-Line in Westchester County, Coach USA / Rockland Coaches in Northern NJ and Rockland County New York, The Hudson Link between Peekskill and Nyack, Dutchess County Public Transit (including the free Beacon Loop), Ulster County Area Transit and more!
The towns that cater to train-traveling tourists and those that that serve commuters or/or college students will likely have more options once you arrive for taxis, Lyfts and Ubers, but sometimes you may just have to hoof it an extra mile (or a few) on local town roads to get to a trailhead.
Whatever the public transit system you choose to use, be sure to always check for the latest schedule updates before you go. Construction and weather delays can happen anytime.  Some routes run more frequently in the summer, and either only on weekends (like the AT stop on Metro-North's Harlem line), or not at all on the weekends (like Rockland Coaches). Some commuter lines significantly reduced their service during the pandemic, so while options may be limited now, more frequent service should become available as workers continue to return to the office.
MTA Metro-North
Leaving from Grand Central, you can take the Metro-North to the popular hiking towns of Cold Spring & Beacon, as well as loads of other trail adjacent towns alongside the Hudson River. Utilize their Harlem Line for direct access to the Appalachian Trail in Dutchess County, or opt for some seaside strolls in Connecticut by utilizing the New Haven Line. You can catch the Metro-North on the west side of the Hudson too, via the Port Jervis and Passaic Valley trains.
*Port Jervis & Passaic Pro Tip – While technically Metro-North lines, you'll have to buy your ticket from New Jersey Transit & start your trip from Penn Station. You'll board a NJ Transit Train, then switch at Secaucus to access the Port Jervis and Passaic Lines. Be sure to keep your ticket / transit app handy, because you'll have to scan your ticket again when you transfer in Secaucus.
General Tips – Not all of the train stations have bathrooms, so be sure to use one onboard before your stop. Some stations are so small you have to be in a particular car to exit onto the platform, so ask a conductor or listen for the announcements ahead of your stop to make sure you're in the right place.
Metro-North Featured Hike: Beacon Fire Tower + Bull Hill
Hike from Beacon to Cold Spring in the Hudson Highlands State Park! Buy two separate one-way tickets & you'll save a few bucks.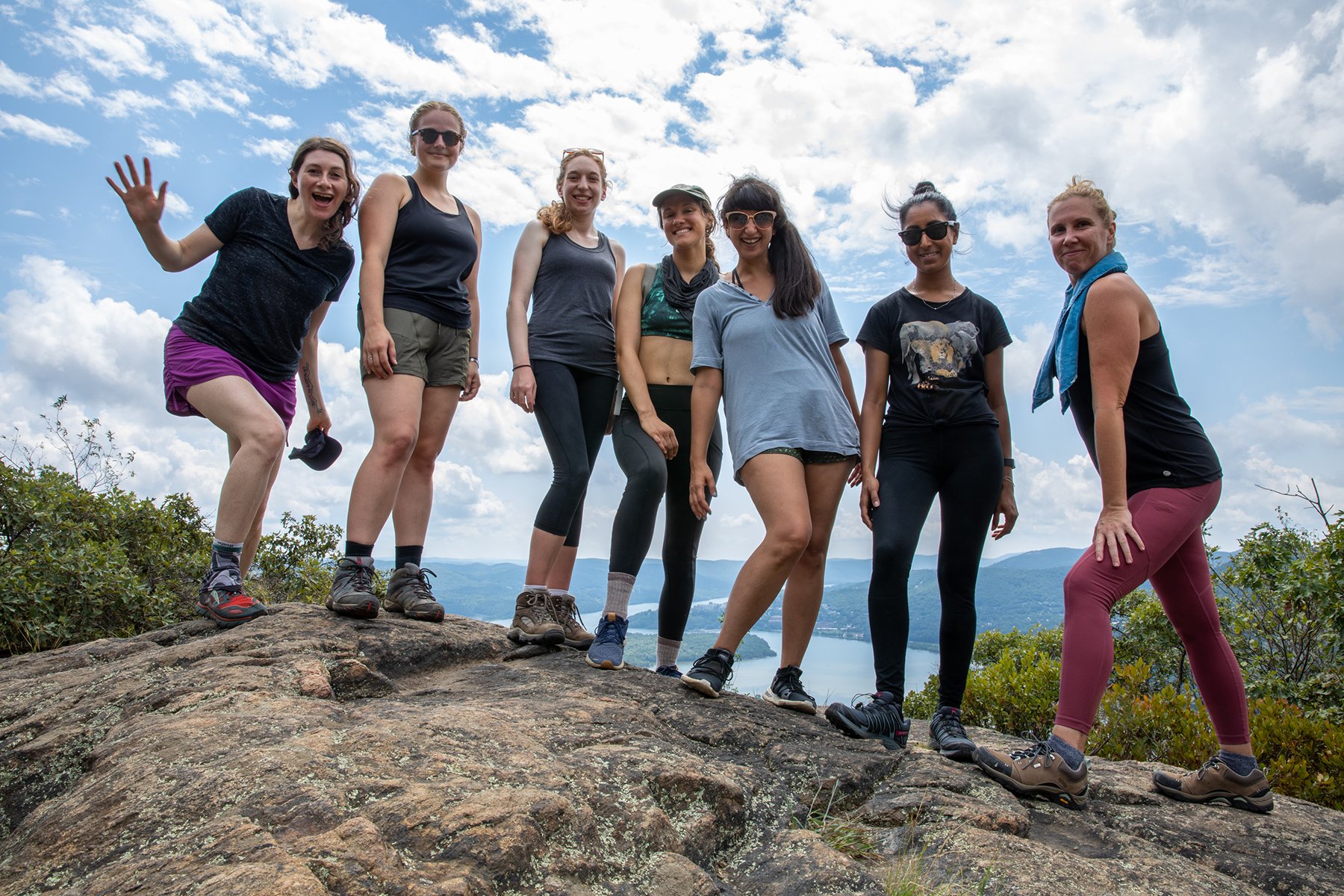 To get from train to trail – You can utilize the Beacon Free Loop bus to stop number 3, or take a taxi right from the station. There are generally plenty of cars waiting onsite whenever trains arrive. Uber & Lyft are available too, but keep in mind that there aren't nearly as many drivers upstate as in NYC, so you may have to wait a while longer than you're used to.
Where: Beacon to Cold Spring, NY
Native Land Recognition: Munsee Lenape
Distance: 11 miles point-to-point
Rating: Challenging / Advanced (best for those looking for a long adventure)
Estimated Hiking Time: 6-7 hours (including breaks)
Hike Description: This hike is perfect for anyone looking to check out both the Beacon Fire Tower and Bull Hill and do it all in one day!
This stretch of the Hudson Highlands boasts some of the best views along the whole Hudson River, but those sights don't come without putting in the hard work! First you'll head up, up, up to the Beacon Fire Tower, then traverse your way across the ridge, enjoying it's many majestic viewpoints, before hiking down and then back up again the top of Bull Hill.
After this roller-coaster of a day, you may want to kick back and raise a glass to celebrate your success in cutie-pie Cold Spring before heading back to the big city!
Suggested Map:
digital version of above available on Avenza
Directions:
From the Mount Beacon Scenic Hudson Parking lot (41.493900, -73.959934), take the red-blazed Casino Trail uphill for just over 2 miles. Turn right on the white-blazed Breakneck Ridge trail and in just .2 miles, you can climb up and enjoy the sweet views from atop the South Beacon Mountain Fire Tower. After you get your feet back on the ground, continue on white for another .6, where you'll reach a junction with yellow. Staying on white, bear right for .1 miles, then continue another .8, where you'll meet up with the blue-blazed Notch Trail. You'll remain on both blue & white for the next 1.4 miles, then bear left on blue only. In .55 miles, you'll pass ruins of the old Cornish Estate barns. Follow the trail to cross the creek just after the ruins, then head left at the junction with red to continue on blue, which will take you up the backside of Bull Hill. In 1 mile, blue will come to an end at the junction with the green trail and white trail. Continue uphill now on the white-blazed Washburn Trail .8 miles to get to the summit of Bull Hill. Here, you'll start to see those sweeping views of the Hudson River again, wahoo! Stay on white and head downhill 1.8 miles all the way downhill to the parking area on route 9D, passing the junction with the yellow-blazed undercliff trail along the way. If you're up for a little more adventure, you can turn right on the yellow trail and head out and back a bit from there for some sweet sitting spots on open rocks. The views are amazing, so be sure to take some photos! Once back on white and down at the parking area, follow the signs that lead you to the left for another .8 miles to get into the town of Cold Spring proper, where you can grab a bite or a beer before heading back to the big city!
New Jersey Transit
Train and bus system that gets you out out of the city quickly to nearby county parks!
NJ Transit is a convenient and quick option from midtown Manhattan. You can head straight out west, or transfer at Secaucus for additional destinations.
General Tips – enter the station from the 7th Avenue / 32nd Street entrance under the Madison Square Garden marquee and head toward the NJ Transit ticket office. Track numbers aren't posted until about 10 minutes prior to departure, so if you wait by the ticket booths, you'll have a good view of the boards. There is little to no cell service once you head underground, so be sure to activate your e-tix prior to heading downstairs. When transferring in Secaucus, you'll need to have your ticket handy to re-scan at the gate. Be sure to bring battery backup for your phone to avoid buying a new ticket on-board on your way home!
New Jersey Transit Featured Hike: A Loop at South Mountain Reservation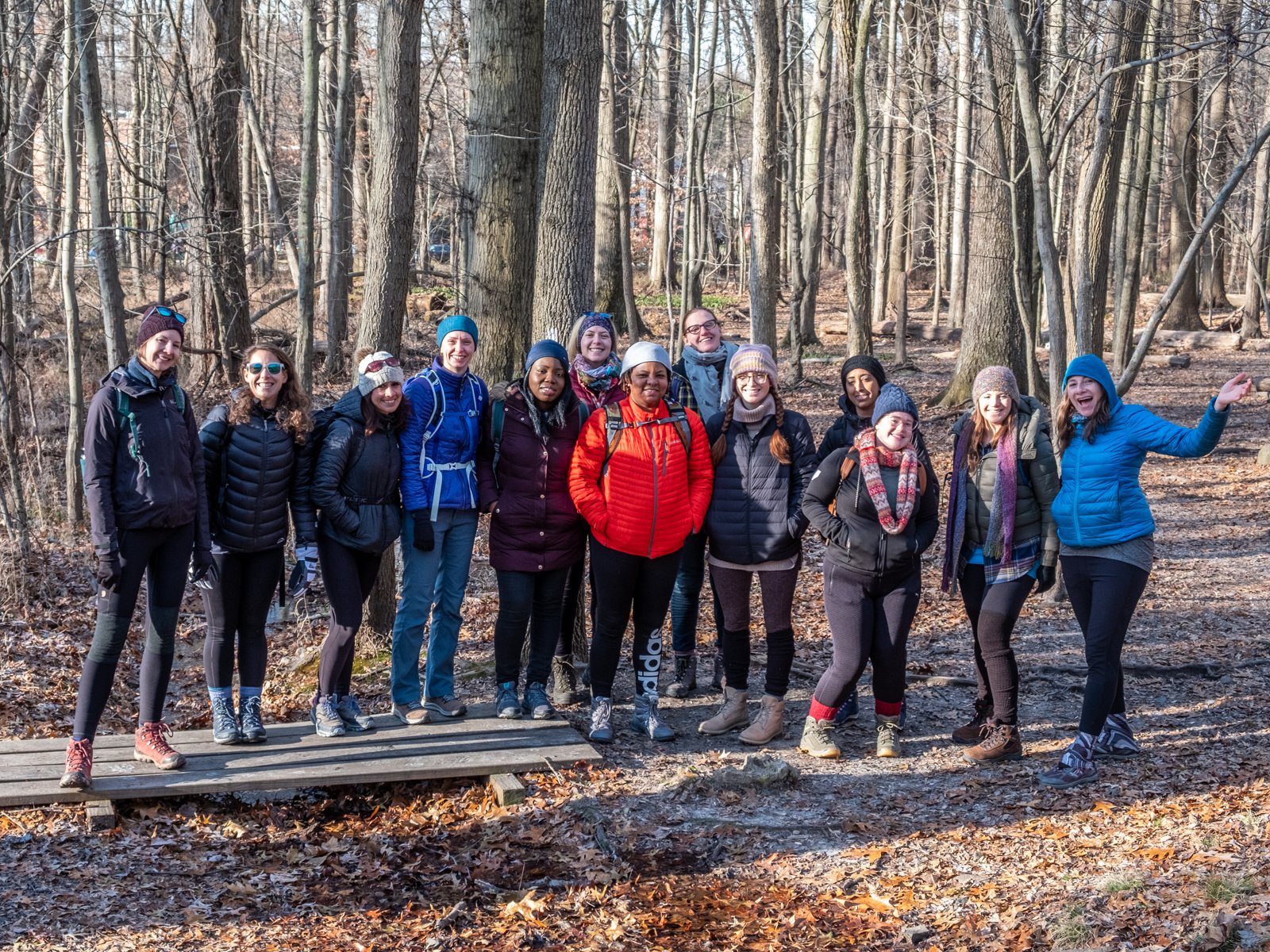 Where: Millburn, New Jersey
Native Land Recognition: Munsee Lenape
Distance: 6.5 mile loop hike
Rating: Easy to Moderate (easy rolling terrain, but poor weather conditions & length may be challenging for non-regular hikers)
Estimated Hiking Time: 5 hours (including breaks)
Suggested Map:
South Mountain Reservation Trail Map
Hike Description:
A perennial favorite, South Mountain Reservation is one of Girl Gotta Hike's top local destinations — especially in the fall and winter months when the days are short but you still want to get out there!
Designed by Frederick Law Olmstead & sons and built by the Civilian Conservation Corps in the 1930's, South Mountain Reservation is a 2100+ acre nature preserve in Millburn, New Jersey. While it may be just a 45-minute train ride from midtown Manhattan, South Mountain Reservation offers a level of peace and serenity more associated with rural landscapes than busy suburbs.
Explore it's quiet, rolling hills, waterfalls and city views, and end your trip with a visit to the fairy trail, full of magic houses! Time permitting, be sure to warm up with a hot beverage from a local cafe or a cool beer from a pub, before hopping the train back to NYC.
Directions:
Hop off the NJ Transit at Millburn and head toward Lackawana Place. Take a right and walk one block, then cross Glen Ave to reach the Locust Grove Trailhead. Pass through the parking area to reach the beginning of the Lenape Trail, blazed in yellow. The first part of the Lenape Trail will take you across a picnic field, then you'll head uphill and meet a paved drive in about a half mile. Turn left on the paved drive and walk along there until you reach Washington Rock. A historical plaque describes a few key Revolutionary War battles from the surrounding area. From the platform just in front of the Rock, you'll see some sweet views of the town below and surrounding hills. On a clear day you may even see out to the ocean! Bear right after the platform and continue on yellow for about 2.5 more miles until you reach Hemlock Falls. The terrain in this section is rolling and primarily forested. You will cross over at least four other trails along the way, as well as two cascading woodsy waterfalls – Maple Falls Cascades and Beech Brook Cascades. Depending on the season, these could be amply flowing or smaller trickles. The base of Hemlock Falls is a lovely spot to stop for lunch and for photos. This is a popular part of the park and accessible by some nearby parking areas, so you should expect to run into many other park-goers here. When you're ready to continue, bear left on the yellow-blazed Lenape Trail, passing by nearby Hobble Falls, for just a couple more tenths of a mile, before reaching the junction with the River Trail and the white-blazed Rahway Trail. From here, you will be switching to white and staying on that for the remainder of your hike. Continue straight to stay on white and in just a few, you will rock-hop over the Rahway River. This is generally an easy feat, but in seasons with high water, follow the high-water alternate route to the right, which will take you up to a park road and bridge to cross the river more safely, then back to the trail on the other side. The Rahway Trail primarily follows the edge of the River, though there are some sections that take you above it, then back down. Approximately one half-mile after the rock-hop, the white trail turns left when it meets a gravel road and takes you downhill to cross back over the river, but this time on a bridge. Just after the bridge, make a sharp right to stay on white. There are many other intersecting trails at this point, so keep your eyes peeled to follow the white blazes. After 1.5 miles, you'll come to the side of Campbell's Pond, which has fishing access and the ruins of an old Mill. From here, you've got just over one mile left before getting back to Locust Grove. Be sure to check out the fun fairy land in the last ½ mile, where kids (and adults) come to build little houses at the base of the trees. It's very cute!
And with any hike, just remember to have fun out there!