Thanks to Melissa Goodwin of Girl Gotta Hike for sharing this awesome itinerary.
A perennial favorite, South Mountain Reservation is one of Girl Gotta Hike's top local destinations — especially in the fall and winter months when the days are short but you still want to get out there!
Designed by Frederick Law Olmstead & sons and built by the Civilian Conservation Corps in the 1930's, South Mountain Reservation is a 2100+ acre nature preserve in Millburn, New Jersey. While it may be just a 45-minute train ride from midtown Manhattan, South Mountain Reservation offers a level of peace and serenity more associated with rural landscapes than busy suburbs.
Explore it's quiet, rolling hills, waterfalls and city views, and end your trip with a visit to the fairy trail, full of magic houses! Time permitting, be sure to warm up with a hot beverage from a local cafe or a cool beer from a pub, before hopping the train back to NYC.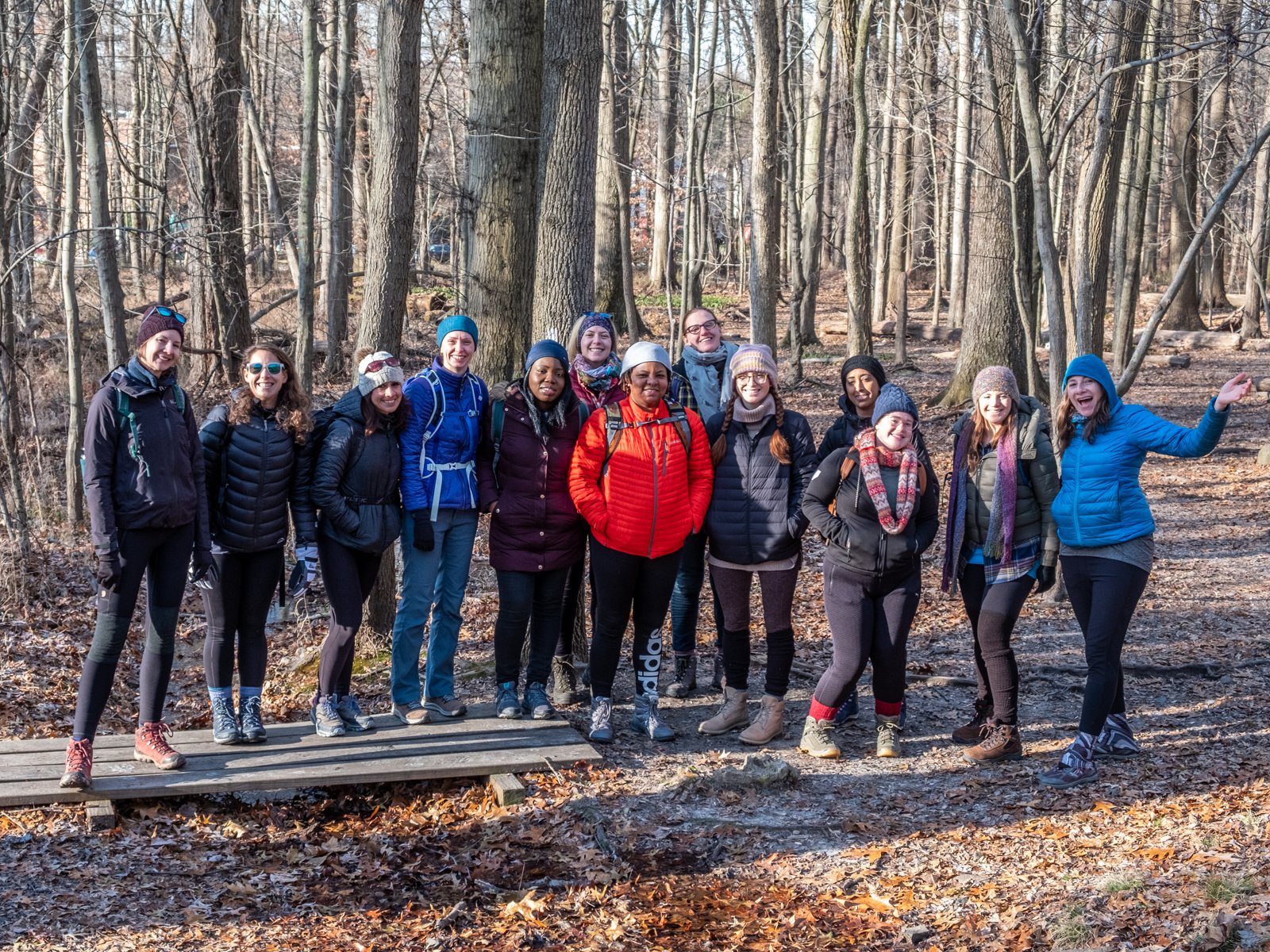 Where: Millburn, New Jersey
Native Land Recognition: Munsee Lenape
Distance: 6.5 mile loop hike
Rating: Easy to Moderate (easy rolling terrain, but poor weather conditions & length may be challenging for non-regular hikers)
Estimated Hiking Time: 5 hours (including breaks)
Suggested Map: South Mountain Reservation Trail Map
Directions:
Hop off the NJ Transit at Millburn and head toward Lackawana Place. Take a right and walk one block, then cross Glen Ave to reach the Locust Grove Trailhead.
Pass through the parking area to reach the beginning of the Lenape Trail, blazed in yellow. The first part of the Lenape Trail will take you across a picnic field, then you'll head uphill and meet a paved drive in about a half mile. Turn left on the paved drive and walk along there until you reach Washington Rock. A historical plaque describes a few key Revolutionary War battles from the surrounding area.
From the platform just in front of the Rock, you'll see some sweet views of the town below and surrounding hills. On a clear day you may even see out to the ocean! Bear right after the platform and continue on yellow for about 2.5 more miles until you reach Hemlock Falls. The terrain in this section is rolling and primarily forested. You will cross over at least four other trails along the way, as well as two cascading woodsy waterfalls – Maple Falls Cascades and Beech Brook Cascades. Depending on the season, these could be amply flowing or smaller trickles. The base of Hemlock Falls is a lovely spot to stop for lunch and for photos. This is a popular part of the park and accessible by some nearby parking areas, so you should expect to run into many other park-goers here. When you're ready to continue, bear left on the yellow-blazed Lenape Trail, passing by nearby Hobble Falls, for just a couple more tenths of a mile, before reaching the junction with the River Trail and the white-blazed Rahway Trail.
From here, you will be switching to white and staying on that for the remainder of your hike. Continue straight to stay on white and in just a few, you will rock-hop over the Rahway River. This is generally an easy feat, but in seasons with high water, follow the high-water alternate route to the right, which will take you up to a park road and bridge to cross the river more safely, then back to the trail on the other side.
The Rahway Trail primarily follows the edge of the River, though there are some sections that take you above it, then back down. Approximately one half-mile after the rock-hop, the white trail turns left when it meets a gravel road and takes you downhill to cross back over the river, but this time on a bridge. Just after the bridge, make a sharp right to stay on white. There are many other intersecting trails at this point, so keep your eyes peeled to follow the white blazes. After 1.5 miles, you'll come to the side of Campbell's Pond, which has fishing access and the ruins of an old Mill. From here, you've got just over one mile left before getting back to Locust Grove. Be sure to check out the fun fairy land in the last ½ mile, where kids (and adults) come to build little houses at the base of the trees. It's very cute!
And with any hike, just remember to have fun out there!
Header photo by Nesstor // Flickr CC