Thank you to guest contributor Melissa Goodwin of Girl Gotta Hike for writing this great blog post!
Itinerary Highlights:
This 11 mile hike includes steep sections, beautiful views
Use Metro-North from Grand Central to make this trip car free
Pro Tip: Buy two separate one-way tickets & you'll save a few bucks.
Check out our guide to hiking from NYC without a car for specific tips and tricks on using public transit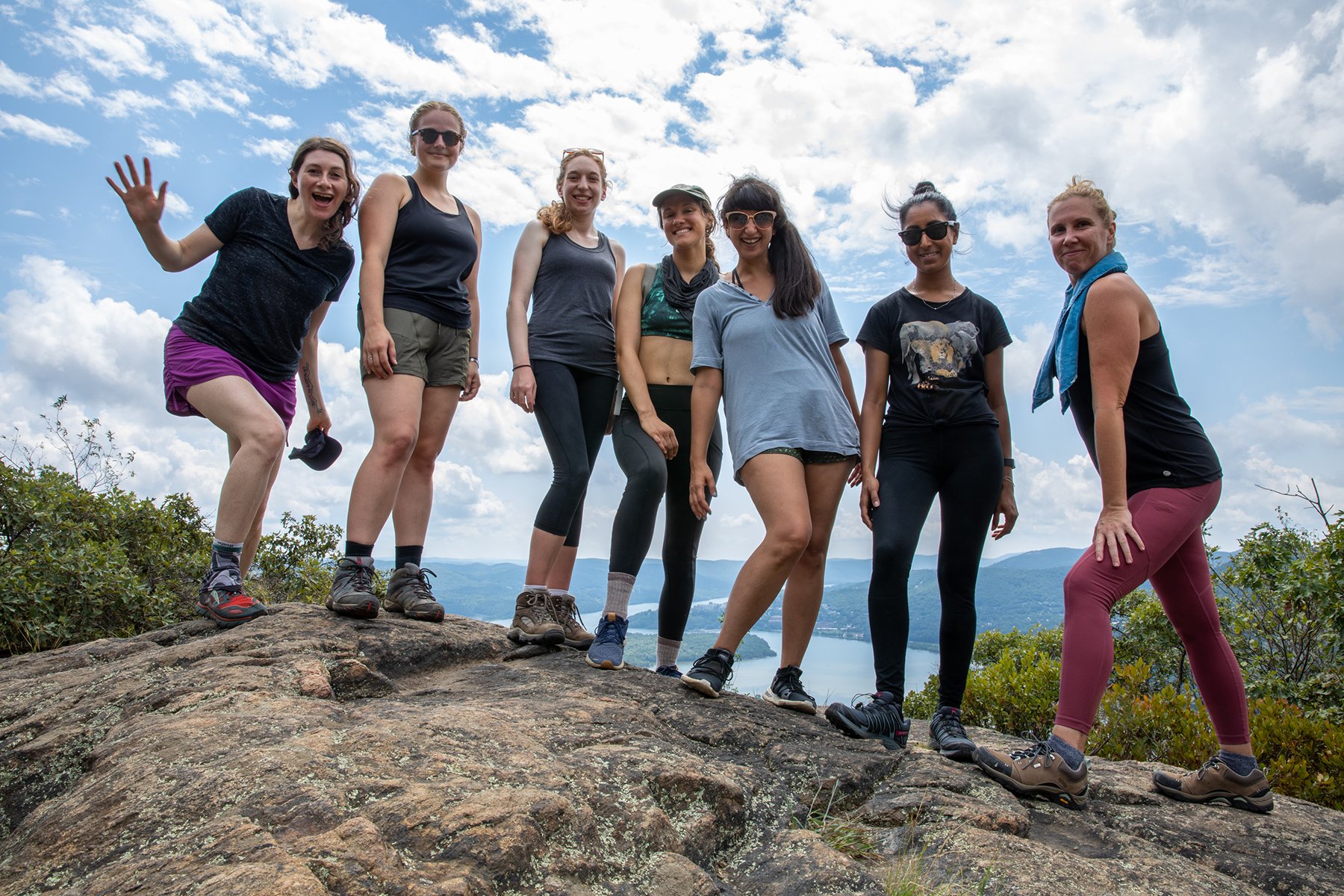 Hike from Beacon to Cold Spring in the Hudson Highlands State Park
To get from the Metro-North train station to the trail you can utilize the Beacon Free Loop bus to stop number 3, or take a taxi right from the station. There are generally plenty of cars waiting onsite whenever trains arrive. Uber & Lyft are available too, but keep in mind that there aren't nearly as many drivers upstate as in NYC, so you may have to wait a while longer than you're used to.
Where: Beacon to Cold Spring, NY
Native Land Recognition: Munsee Lenape
Distance: 11 miles point-to-point
Rating: Challenging / Advanced (best for those looking for a long adventure)
Estimated Hiking Time: 6-7 hours (including breaks)
Hike Description: This hike is perfect for anyone looking to check out both the Beacon Fire Tower and Bull Hill and do it all in one day!
This stretch of the Hudson Highlands boasts some of the best views along the whole Hudson River, but those sights don't come without putting in the hard work! First you'll head up, up, up to the Beacon Fire Tower, then traverse your way across the ridge, enjoying it's many majestic viewpoints, before hiking down and then back up again the top of Bull Hill.
After this roller-coaster of a day, you may want to kick back and raise a glass to celebrate your success in cutie-pie Cold Spring before heading back to the big city!
Suggested Map:
Directions:
From the Mount Beacon Scenic Hudson Parking lot (41.493900, -73.959934), take the red-blazed Casino Trail uphill for just over 2 miles. Turn right on the white-blazed Breakneck Ridge trail and in just .2 miles, you can climb up and enjoy the sweet views from atop the South Beacon Mountain Fire Tower. After you get your feet back on the ground, continue on white for another .6, where you'll reach a junction with yellow. Staying on white, bear right for .1 miles, then continue another .8, where you'll meet up with the blue-blazed Notch Trail. You'll remain on both blue & white for the next 1.4 miles, then bear left on blue only. In .55 miles, you'll pass ruins of the old Cornish Estate barns. Follow the trail to cross the creek just after the ruins,  then head left at the junction with red to continue on blue, which will take you up the backside of Bull Hill. In 1 mile, blue will come to an end at the junction with the green trail and white trail. Continue uphill now on the white-blazed Washburn Trail .8 miles to get to the summit of Bull Hill. Here, you'll start to see those sweeping views of the Hudson River again, wahoo! Stay on white and head downhill 1.8 miles all the way downhill to the parking area on route 9D, passing the junction with the yellow-blazed undercliff trail along the way. If you're up for a little more adventure, you can turn right on the yellow trail and head out and back a bit from there for some sweet sitting spots on open rocks. The views are amazing, so be sure to take some photos! Once back on white and down at the parking area, follow the signs that lead you to the left for another .8 miles to get into the town of Cold Spring proper, where you can grab a bite or a beer before heading back to the big city!
Header photo: The Turdeuken, Flickr, CC